uPunchit+

The production of punch lists at the end of a project has always been a very time consuming undertaking. uPunchit+ lets you import a drawing image, zoom and pan to a specific location with the image, note the job title and location within the project, and place numbers on the image that are linked to notes. The application simulates the use of tracing paper over an image by applying a yellow film that helps with the contrast of new and existing information. Clouds can also be placed on the image to highlight a location. The email that is produced by the application includes a PDF file with your project information, your numbers, your notes, and your screen image. This 8 ½ x 11 document can be emailed and printed on any team member's printer. The PDF file can be augmented with additional notes, if necessary, in Adobe Reader before it is printed or the text within the email can be copied and pasted to a spread sheet. uPunchit+ could be very helpful to Registered Accessibility Specialists when they produce a TAS (Texas Accessibility Standards) reviews at the end of a project and need to reference sections of the regulations.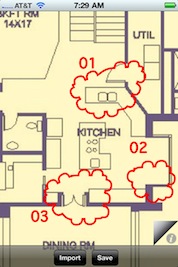 If you would like to see this application in action, take a look at the video:




How to use tips and tricks coming soon!